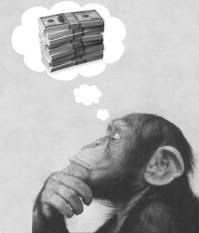 I have the most random thoughts/internal dialogs in the work bathroom. Every time I leave there I end up shaking my head and wondering if I'm crazy. My final thought before shaking my head at myself this morning was "If I were a stripper I'd have a monkey to pick up the money!"
I don't know why this only happens in the work bathroom, at home I have totally reasonable trips to the restroom, at work is another story all together…. Maybe I feel the need to shut down my brain since it works too hard all day? Today's internal dialog happened in less than 1 minute and I didn't wake up from the insanity until I was washing my hands.
I went to unhook my work pants (which have way too many buttons and hooks by the way) and felt a lump of money in my pocket. The following is where my thought train went from there…
Oh yeah, I brought cash today since I'm going out for lunch with my coworkers.
I would never have remembered the cash except I accidentally washed it and it was scattered all over the bed with my clean un-folded laundry.
I had to crawl around on my bed and dig all through my laundry to get the cash, those dollar bills were scattered everywhere!
I feel bad for strippers because they have to crawl around on stage for their tips like that.
I think stripping would be OK if it weren't for the fact that you have to crawl around on the stage after you dance to get all the scattered money.
I think I would enjoy stripping more than I enjoy my current job.
I could be a stripper, I'd just have a monkey and then after I was done the monkey could pick up the money!
*For the record I'm not considering quitting engineering to become a stripper (I might consider getting a monkey though...), just thought I'd let you into how my Brian problem solves when I'm not reining it in!